The Better Off Inside Slack Chatroom is where you can find teammates for trivia, people to play games with for game nights, or setup a watch party.
How do I join the chatroom?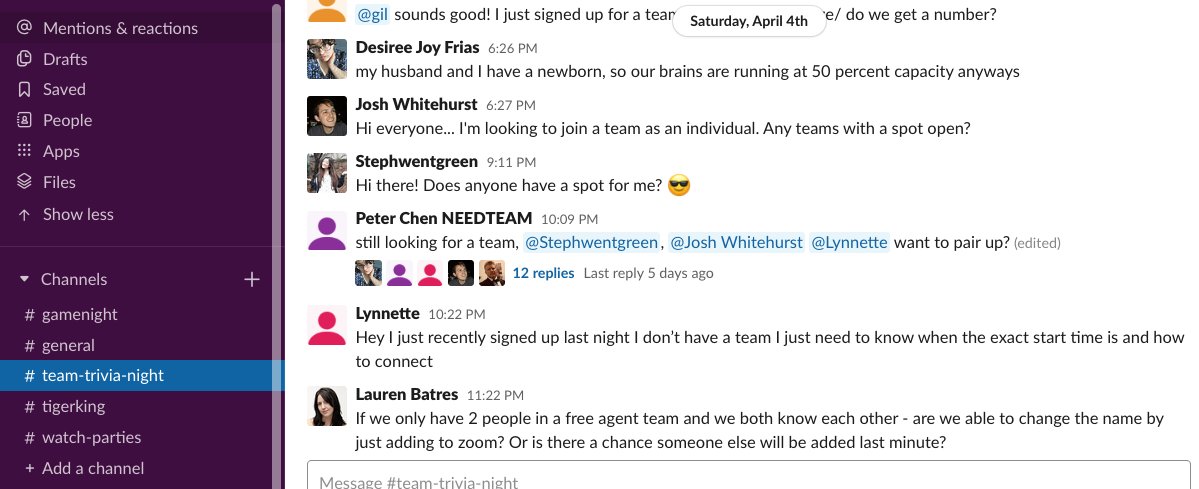 Click this link to join the chatroom:
Click here to join the Better Off Inside Slack Chatroom
Joining the Chatroom is super easy! Click the link above and then enter your email when prompted. Make sure you click the verification link they send you after you enter your email. Next you'll be asked to make an account (don't worry, it's free!). Once your account is made you're in!
You can see the different chatrooms we have for game nights, trivia nights, watch parties, etc.
Using the chatroom:
The chatroom is great for players who signed up by themselves and are looking for teammates for our trivia and game nights. Before a trivia or game night we recommend checking the chatroom for people looking for teammates or event posting a simple "Anyone looking for teammates?" yourself. There will be Better Off Inside reps in the chat to help match people with each other!
Once you find a group to play with we suggest setting up a group video chat through Zoom or Google Hangout. Check out the guides linked below if you're not sure how to setup a video chat:
Click here for the guide to setup a Google Hangout
Click here for the guide to setup a Zoom video chatroom
Any other questions?
Any additional questions? Email [email protected] and we'll help you out!
See you soon hopefully!