Better Off Inside events have a whole mix of different people. Whether it is a full team of friends, a pair of roommates looking for a few other people to team up with, or an individual who needs a full team we got you covered!
Check out the Better Off Inside Chatroom:
Before every Better Off Inside event all of the free agents and teams that need a few people to round out their numbers will go to the Better Off Inside Chatroom to look for teammates. Click the link below to access the chatroom (Note: you may need to setup an account with Slack, don't worry it's free!). Once the start time of your event gets closer you can see who has posted that they are looking for teammates or you can even post yourself. We'll have a Better Off Inside rep in the chatroom to help match people up but we definitely encourage you to post yourself. Posting a simple "Anyone need an extra teammate for trivia tonight?" is one of the easiest ways to find teammates.
Click here for the link to Better Off Inside Chatroom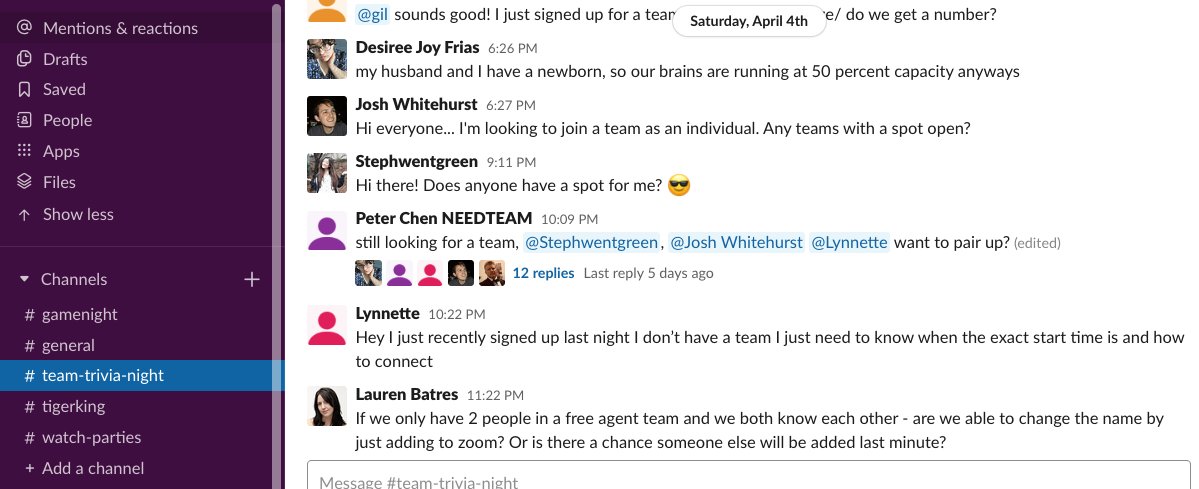 Setup a video call with your new team:
We definitely recommend setting up a video call with your team so you can all communicate while playing. There are a few different ways to set up a call and you can choose the one that is right for you! We made a few guides on how to setup a video call through Zoom and Google Hangouts that you can check out below if you're not sure how to set one up.
Click here for the guide to setup a Google Hangout
Click here for the guide to setup a Zoom video chatroom
Find people you like? Sign up as a full team next time!
If you find a fun group of people you can sign up next time as a full team and if you are playing trivia we'll have live score tracking for your team.